RENT MuTh!
For your celebration, exhibition or performance
Have you ever booked an entire theatre?
Whether it's for an artistic performance or a professional event – MuTh is highly adaptable. With its modern architecture, warm atmosphere, and state-of-the-art technology, MuTh is a popular location for all manner of events, from birthday celebrations to professional conventions. What's more, the theatre is located at the geographic midpoint of Vienna. In this truly central position, MuTh is easily accessible via the U2 metro line. And you won't find as good a sound in any other venue.
That's your call!
Our stage can accommodate anything. It's not only suitable for concerts, musical theatre, and dance. The MuTh stage also works well as a platform for talks and presentations, and is ideal for film screenings. Our stage can accommodate anything. It's not only suitable for concerts, musical theatre, and dance. The MuTh stage also works well as a platform for talks and presentations, and is ideal for film screenings.
At the back of the stage, a textured wooden panel functions as both a visual and an acoustic background. Other equipment to dress the stage is available, including a black wooden panel, a black curtain, and a roll-up cinema screen. You can cover the stage with a dance floor. Or you can surprise your guests by mysteriously springing out from beneath the stage.
The stage – flexible size, flexible facilities
Stage dimensions: or 12 x 9 m bzw. 12 x 12,5 m (with orchestra pit raised to create apron stage)
Orchestra pit: 12 x 3,5 m
Full facilities for concerts and theatre productions, plus cinema projection screen
The auditorium – terraced stalls and a balcony, comfortable seats throughout, plus excellent lines of sight to the stage and a top-class acoustic
Concert hall capacity: 413 bzw. 371 seats
Fully accessible, 4 wheelchair spaces, box seats, stalls
The atelier – with a view onto the Augarten
Individual seating for up to 60 people
The tower-room – a small auditorium
Ideal for an exciting sideshow
Café Maximilian – make time for a quiet break
Space for 70 people – can be extended to include the patio and the atelier
Catering for up to 450 people
Outside area – ideal for catering or garden receptions
The foyer – a light and airy reception space
Artists' dressing rooms – from individual dressing rooms to an orchestra dressing room, plus a cloakroom for public use
We look after your belongings and those of your guests
Box office – quick and easy check-in
Streaming for Business
Ob Tagung, Schulung, Kick-Off-Veranstaltung oder Konzert – wir streamen ihre Veranstaltung live aus dem MuTh öffentlich oder für ein ausgewähltes Publikum auf verschiedene Plattformen wie YouTube, U-Stream oder Facebook. Bühnenlicht und Ton erfüllen in einem Haus wie unserem natürlich höchste Ansprüche. Mit mehreren Kameras und Live-Bildregie bringen wir für Sie bis zu 400 Gäste und Speaker vor Ort mit virtuellem Publikum und zugeschalteten Vortragenden zusammen. Wir bieten aber auch für kleine Firmenevents Basic-Pakete für Streamings an.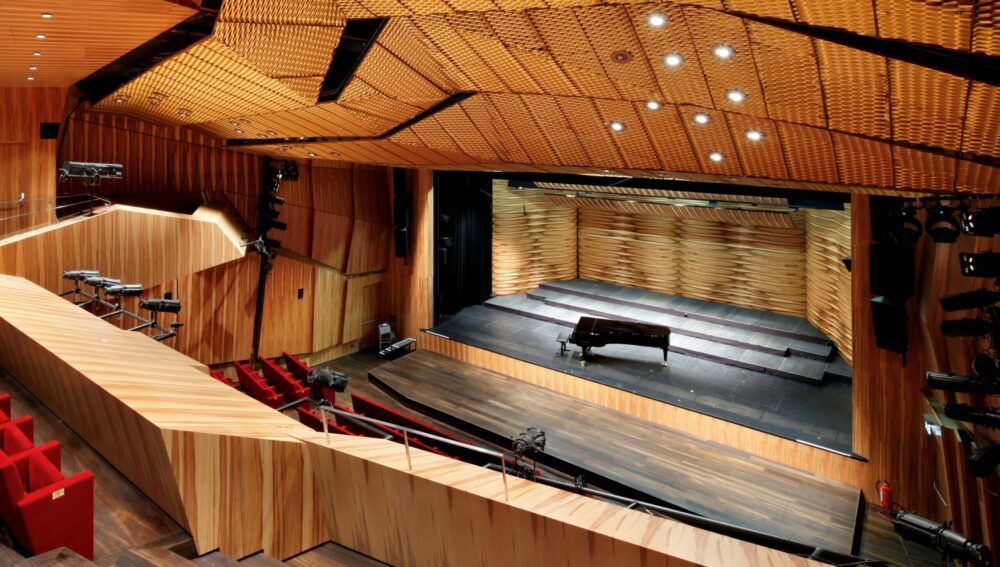 Was ist eine Akustikmuschel?
Die spezielle, vielflächige Form der mobilen Bühnenrückwand – genannt Akustikmuschel – ist nicht nur ein schmucker Bühnenhintergrund, sondern erfüllt auch eine wichtige akustische Funktion. Zusammen mit dem Vorbühnensegel sorgt sie für eine optimale Schallabstrahlung von der Bühne in den Zuschauerberreich des Saales.
Der Saal weist mit seinem Nutzungsprofil die Hauptfunktion eines Musiktheaters mit Orchestergraben auf, ist jedoch auch geeignet für andere Aufführungen und Veranstaltungen, wie zum Beispiel Rock- oder Pop-Musik und Kinderopern sowie Schul- und Kindergruppenevents.
Bereits die Architektur mit der für das erforderliche Raumvolumen hohen Deckenhöhe, der Form der Galerie und der Saalrückwand sowie die Vermeidung paralleler Flächen folgt dem raumakustischen Konzept einer Kammeroper (bzw. eines Kammermusiksaales), ausgestattet vom renommierten Büro Quiring Consultants.
Die schuppenartig gegliederten Seitenwände, das Vorbühnensegel, die Orchestermuschel, spezielle Sitze und die Auswahl der Materialien sorgen für eine ausgeklügelte Ausbreitung und einen breitbandigen Klang im Besucherraum.
Technik – State of the Art!
Eine optimal auf die natürliche Akustik des Konzertsaales abgestimmte Beschallungsanlage von Kling&Freitag samt Mikrofonierung, Intercom und Headsets, Full-HD Videoprojektor mit 14000 Ansi Lumen, Mac Pro mit professioneller Videosoftware, mobile Kameras mit und ohne Stativ, Beleuchtungsanlage mit Fresnel- und Profilscheinwerfern sowie Movinglights, …
Das MuTh ist technisch gerüstet für Konzerte, Theater, Tanz, Musical, Film, Wettbewerbe, Podiumsdiskussionen, Präsentationen, sowie Konferenzen und Messen.
Ein Antrag auf Zertifizierung als Tagungs- und Eventlokalität nach dem Umweltzeichen Tourismus UZ 200, Modul UZ207 ist im Laufen.
Wenn Sie mehr über unsere Ausstattung wissen möchten, dann kommen Sie am besten zu einer unverbindlichen Besichtigung vorbei!
Für weitere Informationen und Preisanfragen wenden Sie sich bitte per E-Mail an Prof. Elke Hesse, Direktorin des MuTh, E-Mail: elke.hesse@muth.at
Wir freuen uns über Ihr Interesse!